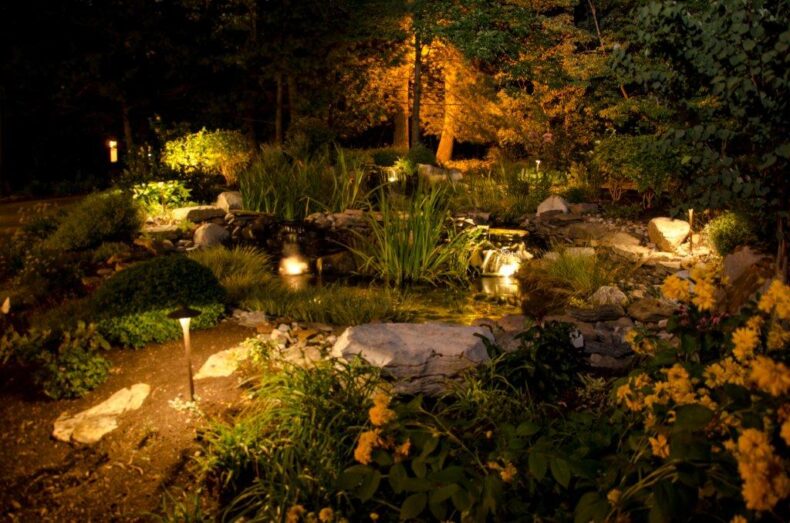 Illuminate your outdoors all night long with the best batteries for solar lights.
Nowadays, solar lights are incredibly popular! With the proper battery, they are maintenance-free, they work off-grid, and ultimately, thanks to their solar panel, they can light your garden for hours.
In this review, you'll find 20 of the best rechargeable batteries for your solar lights based on the following factors:
Ready for the outdoors

Durability

Capacity
---
20 Best Batteries For Solar Lights
Panasonic Eneloop AA 2100 Cycle Ni-MH, 2000 mAh
---
Energizer Rechargeable AA Batteries, NIMH, 2000 mAh,1.2V
---
Tenergy Premium PRO Rechargeable AA Batteries, 2800mAh NiMH
---
ARCCI NiMH AA Rechargeable Batteries 2700mAh, 8 Counts
---
Rechargeable AA Batteries, SUKAI 2800mAh, 8 pack
---
VONIKO AA Rechargeable Batteries 12 Pack
---
POWEROWL AA Rechargeable Batteries, 2800mAh
---
Duracell Rechargeable AA Batteries, 2650 mAh 1.2V 
---
Amazon Basics 8-Pack AA Rechargeable Batteries, 2000 mAH
---
EBL AA Rechargeable Batteries, 1.2V, 1100mAh, NiCd
---
Geilienergy Solar Light AA Ni-CD, 1000 mAh
---
Tenergy AA Rechargeable Battery NiCd, 1000 mAh, 1.2V
---
RayHom AA Rechargeable Batteries, 2800mAh Ni-MH
---
HAOHIYO AA Rechargeable Battery 2800mAh 1.2V NiMH
---
ITEHIL Rechargeable AA Battery, 2700mAh, 8 pack
---
Fufly AA Rechargeable Batteries 2800mAh (Pack of 12)
---
Rayovac Rechargeable NiMH, AA Batteries (4 Count)
---
PKCELL NiMH AA 1300mAh 1.2V Battery- 4Count
---
Mr. Batt Rechargeable AA Batteries, 1600 mAh, pack of 8
---
NiMH Rechargeable AA Battery High Capacity, 1.2V, precharged
---
Buying Guide
Consider the following factors when buying:
Battery Capacity (mAh)
What it is: Measured in milliamp-hours (mAh), it indicates the amount of energy the battery can store.

Why it matters: A higher capacity means the battery can power the light for a longer duration.
Tip: Match the battery capacity with the energy needs of your solar light. Overcapacity might not be fully utilized if the solar panel can't charge it fully.
Battery Type/Technology
Options: NiMH (Nickel-Metal Hydride), NiCd (Nickel Cadmium), Li-ion (Lithium-ion), etc.

Why it matters: Different technologies have varied performance, lifespan, and environmental impacts.
Tip: NiMH batteries are often recommended due to their higher capacity and less environmental impact compared to NiCd.
Life Duration
What it is: Indicates how long the battery will last before it needs replacement. Measured in cycles or years.

Why it matters: A longer life duration means less frequent replacements and better value for money.
Tip: Look for batteries with at least 1000 cycles or 2-3 years of life duration.
Temperature Resilience
What it is: The ability of the battery to perform under extreme temperatures.

Why it matters: Solar lights are exposed to outdoor conditions, so batteries need to function well in both hot summers and cold winters.
Tip: NiCd batteries are known for their cold-weather performance, but they have environmental concerns.
Self-Discharge Rate
What it is: The rate at which a battery loses its charge when not in use.

Why it matters: A lower self-discharge rate ensures the battery retains its charge for longer, especially during cloudy days when solar charging might be minimal.
Tip: Batteries with a "low self-discharge" label are preferable.
Price and Warranty
Why it matters: While it's essential to get a good deal, the cheapest option might not always be the best in terms of quality and longevity.
Tip: Consider batteries that come with a warranty, indicating the manufacturer's confidence in the product.
Environmental Considerations
Recyclability: Opt for batteries that can be recycled to reduce environmental impact.

Toxicity: NiCd batteries contain cadmium, which is harmful to the environment. If you choose NiCd, ensure proper disposal.
---
FAQ
What factors should be considered when choosing batteries for solar lights?
When selecting batteries for solar lights, it's essential to consider the battery's capacity (mAh) as it determines the duration of light provided. The life duration, measured in cycles or years, is another crucial factor. It's also vital to check if the batteries are suited for extreme temperatures, especially for outdoor use. The battery's technology, such as Ni-MH or Ni-Cd, can impact its performance, environmental implications, and adaptability to weather conditions.
Why is temperature resilience important for solar light batteries?
Solar lights are predominantly used outdoors, exposing them to a range of weather conditions, including cold temperatures. Batteries that function efficiently at low temperatures ensure the consistent performance and reliability of the solar lights. This is especially crucial during winter or in regions with colder climates to prevent the lights from dying out prematurely.
Are batteries with higher capacities always the best choice for solar lights?
Not always. While batteries with higher capacities can store more energy and potentially power the lights for extended periods, they might also be pricier and not necessary for all users. It's essential to strike a balance between capacity, actual needs, and budget, also taking into account other factors like lifespan and temperature resilience.
What are the environmental concerns associated with NiCd batteries?
NiCd (Nickel Cadmium) batteries are known for their performance in extreme temperatures, especially in colder conditions. However, they typically have a lower capacity compared to NiMH (Nickel-Metal Hydride) batteries. A significant concern with NiCd batteries is that they contain cadmium, a toxic material that poses environmental risks.
---
Final Thoughts
Choose a rechargeable battery according to your solar light charging abilities. If the battery capacity is too high, your solar light will not be able to charge it fully.
Expose your solar light to full sun for best charging performances.
Finally, select NiCd batteries only if you experience cold winters.