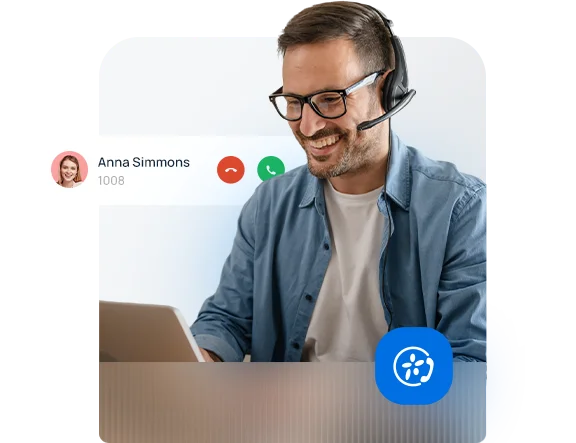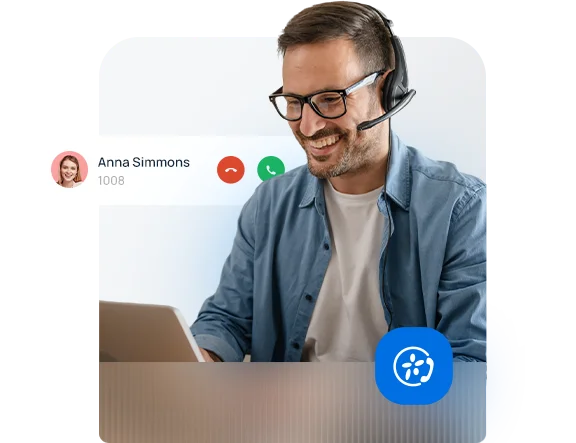 Linkus Desktop Client is a comprehensive unified communications app tailored specifically for Yeastar P-Series Phone System users. It offers a range of features that empower you to manage various communication tasks right from your desktop computer.
In this blog post, we will delve into the six core features of the Linkus Desktop Client and see how can they help you streamline workflow and enhance call efficiency. Without further ado, let's jump right in!
Customizable Hotkeys
CTI
Headset Integration
Outlook Integration
Call Flip & Call Switch
Call Merge
1. Customizable Hotkeys
Maximize your call handling efficiency with Linkus Desktop Client's customizable hotkeys (keyboard shortcuts). By configuring these hotkeys, you can seamlessly perform various call operations directly from your keyboard without having to switch back to the Linkus interface. You can tailor the key combination to match your preferences and work habits. Whether it's dialing, answering, transferring (blind or attended), holding, resuming, or hanging up calls, all tasks can be effortlessly accomplished with convenience.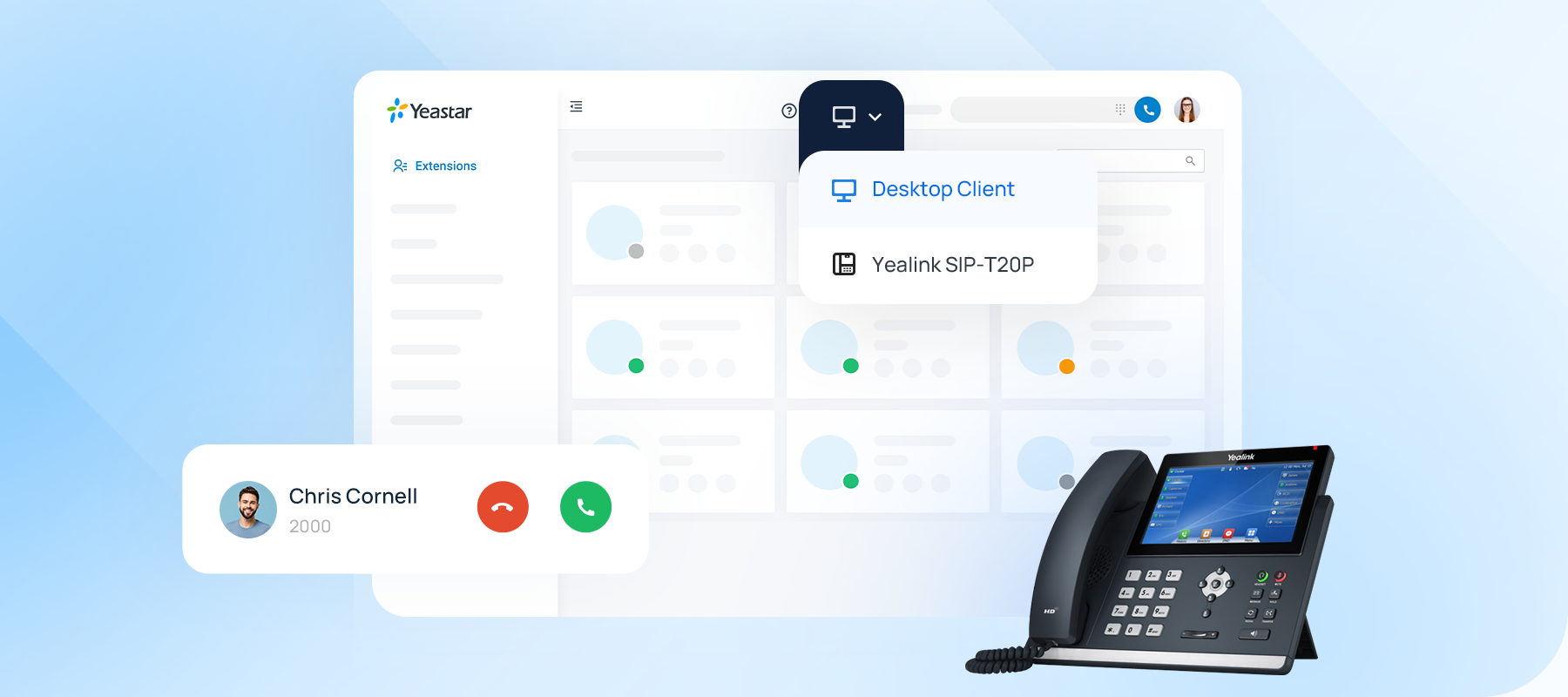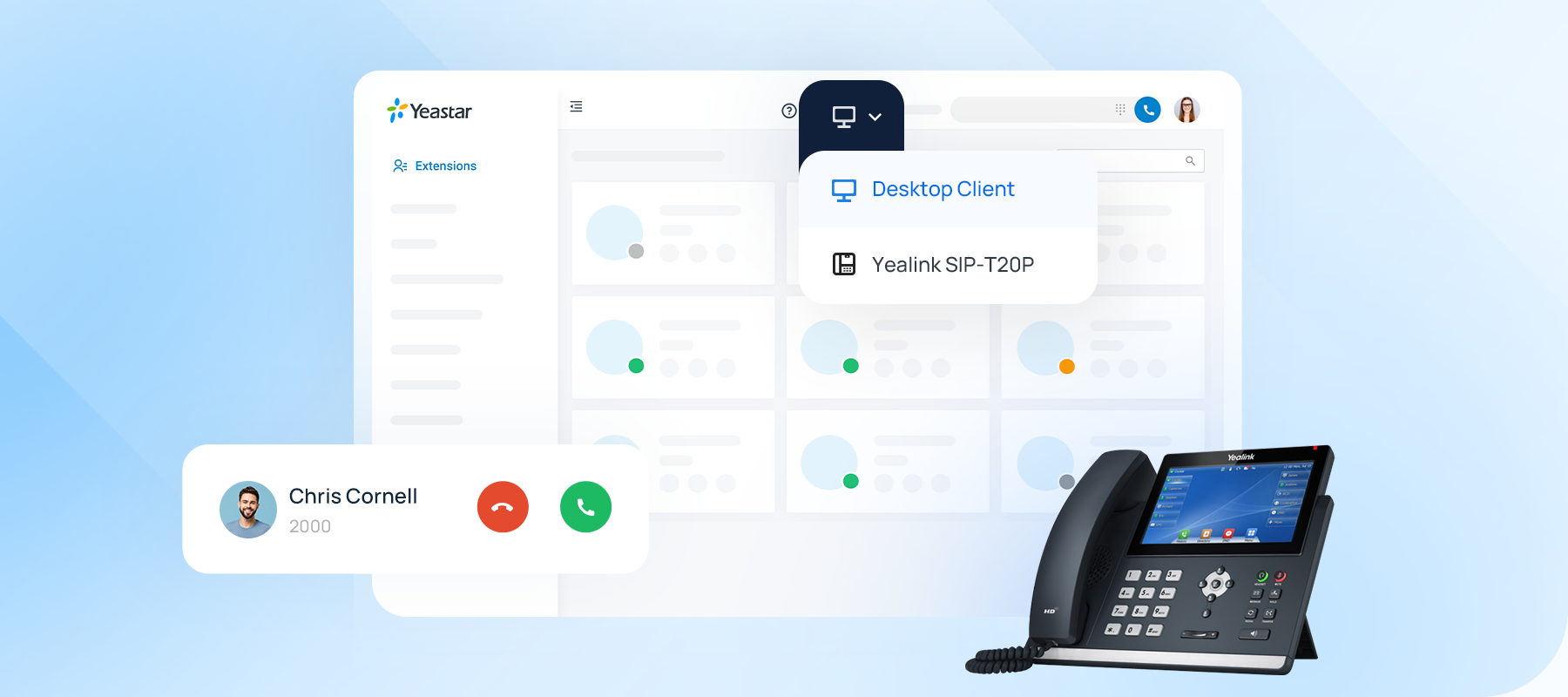 2. Computer Telephony Integration (CTI)
For individuals whose daily work revolves around desk phones, the CTI mode in Linkus Desktop Client has proven to be a handy tool. Once configured, simply click on any phone number within the Linkus Desktop Client interface, and your desk phone will serve as the audio path to initiate the call. This useful feature eliminates the inconvenience of manually retyping phone numbers and helps you save time. Moreover, you can execute multiple call operations in Linkus Desktop Client to control your desk phone for a more streamlined experience, such as call transfer, hold, retrieval, and more.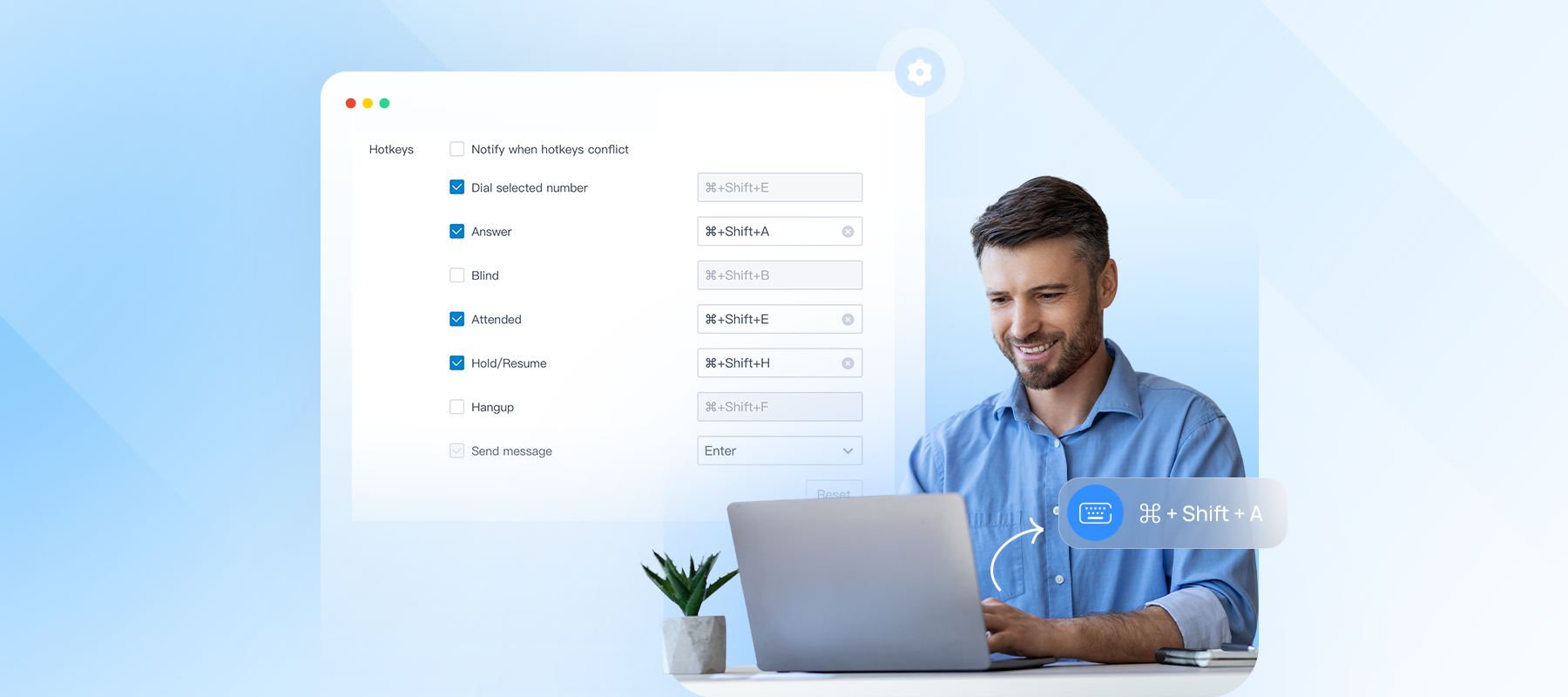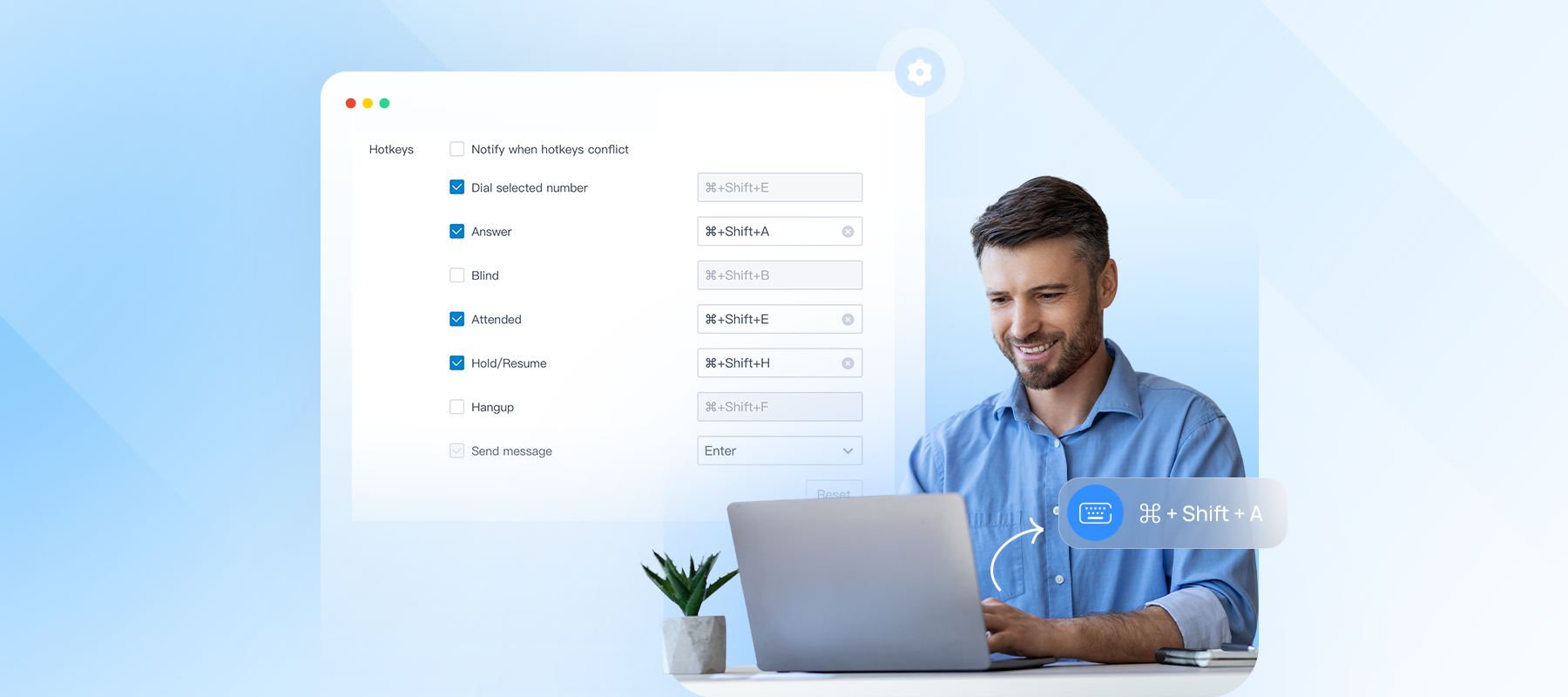 Related: Learn more about the CTI mode of Linkus Desktop Client
3. Headset Integration
Linkus Desktop Client facilitates seamless plug-and-play integration of WebHID-compliant headsets, delivering effortless call control for call center agents and sales professionals. With this integration, you can benefit from one-touch functionalities like answering, holding, muting, rejecting calls, etc., keep your hands-free during conversations, and multitask with maximum efficiency
Related: Yeastar's Headset Integration Solution
4. Outlook Integration
Linkus Desktop Client supports integration with Microsoft Outlook, providing you with a variety of efficiency-enhancing features. With this integration, you can call your Outlook contacts with a simple click, receive call popups for incoming calls, access call logs directly within the Outlook interface, and manage both your phone and email communications through a unified interface.
The integration will enhance your Outlook with the following features:
Click to call directly from your Outlook contact list or mailbox
Screen pop-ups for incoming calls from your Outlook contacts
Instantly track and log every call to your Outlook contacts' notes
Automatically create first-time dial-in contacts in Outlook
Synchronize Outlook contacts to Phonebooks in Linkus
Besides Outlook, Linkus Desktop Clients also supports seamless integration with popular CRMs, helpdesk software, and directory service apps to synchronize contacts and help you streamline daily workflow.
5. Call Flip & Call Switch
Linkus Desktop Client has two powerful call features: Call Flip and Call Switch. Imagine this scenario: In the midst of an important call, you need to leave. Instead of ending it abruptly, use Call Flip to transfer the call from desktop to mobile seamlessly. Once you're settled, retrieve the call and continue on the desktop client. Whether flipping or switching, stay connected with important clients without interruption.
6. Call Merge
In other cases, when you're in a customer support meeting or group discussion and require assistance from another department. What would you do?
In the past, you would have had to hang up and redial, disrupting the flow of conversation. However, with Linkus Desktop Client, you can utilize the Call Merge feature. This allows you to seamlessly merge two separate calls into a single audio conference call. This effortless merging enables you to initiate three-way conversations, facilitating collaboration and better efficiency by bringing together clients and colleagues.
Achieve Higher Efficiency through Omnichannel Messaging
In addition to the call efficiency-enhancing features mentioned earlier, Linkus Desktop Client also offers Omnichannel Messaging capabilities for streamlined message management. Thanks to this feature, you can easily handle both internal chats and external messages from channels like SMS and WhatsApp, all within the unified interface of Linkus Desktop Client. Plus, with just one click, you can elevate chats to calls, allowing you to create a seamless communication flow and better engage your customers.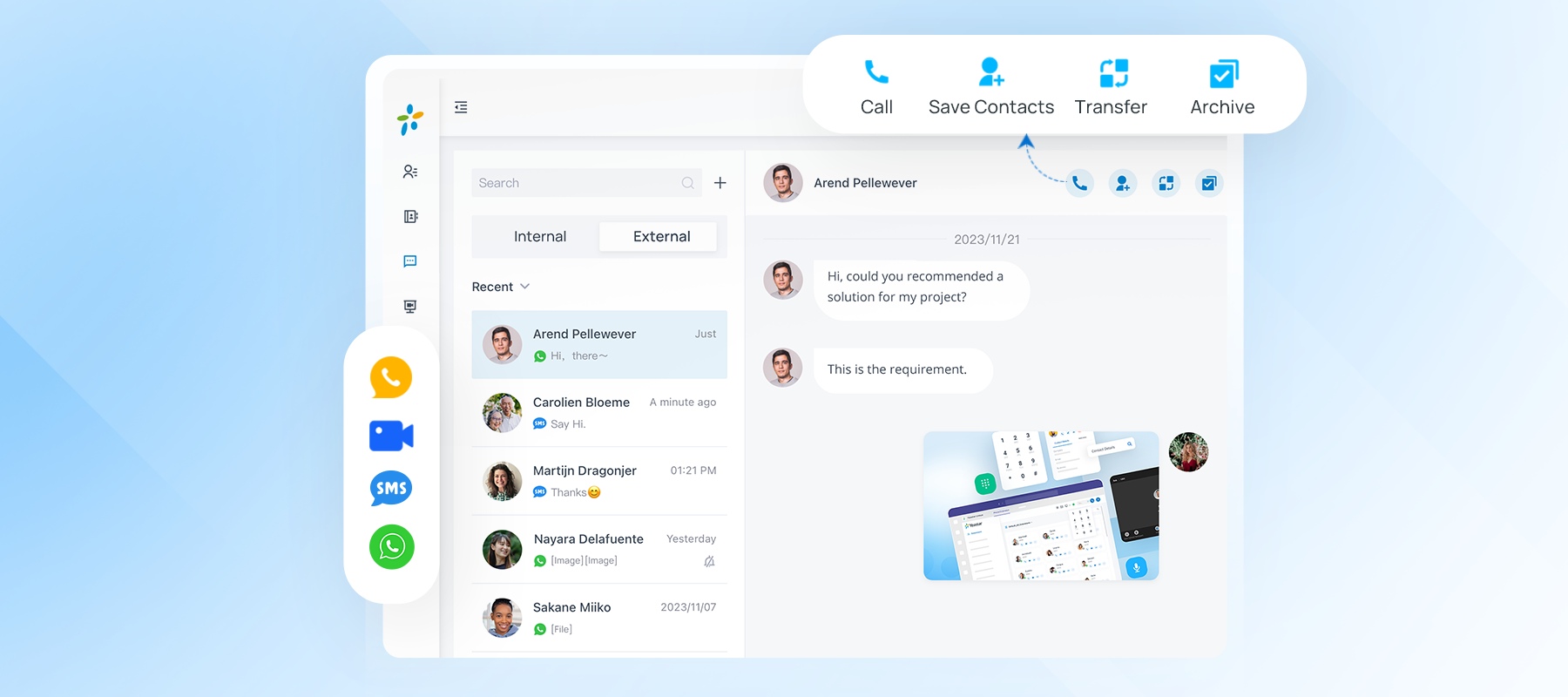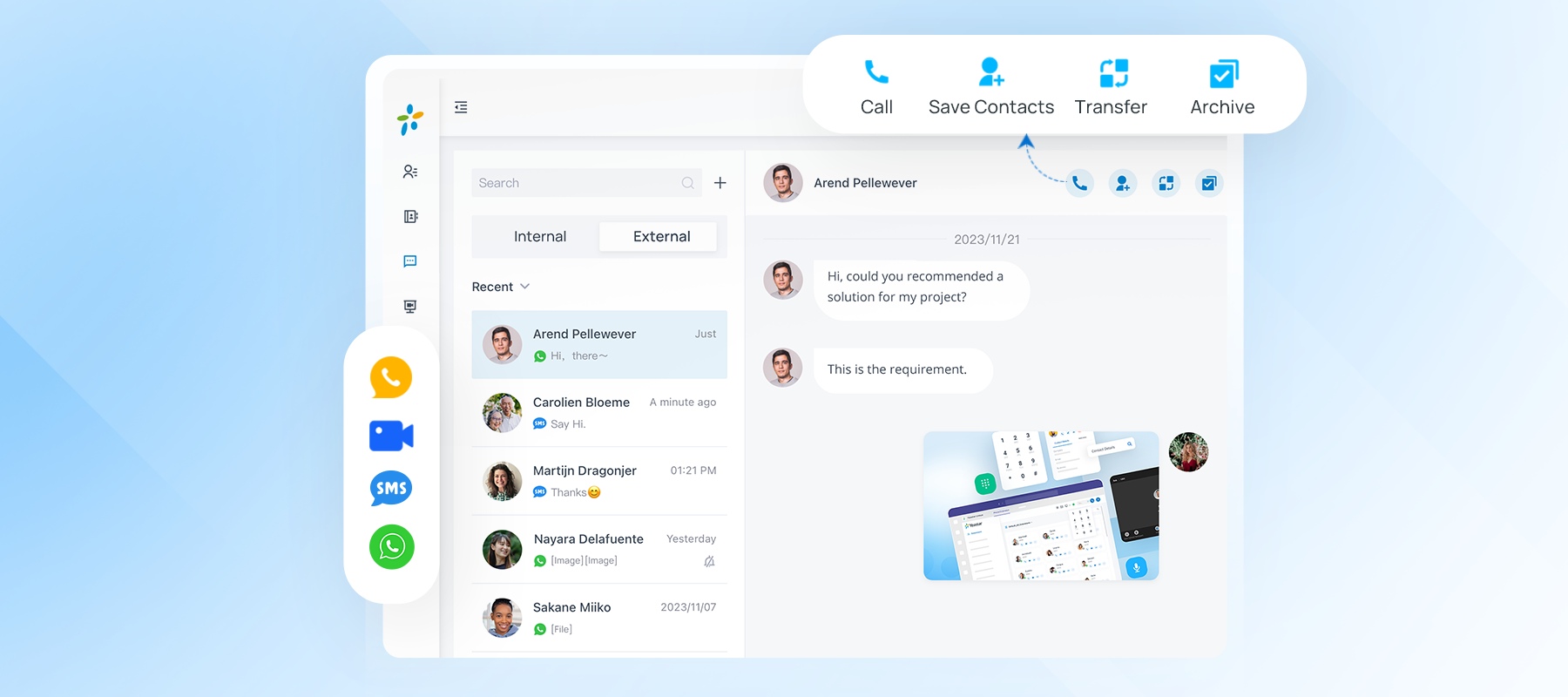 More Reasons to Love Linkus Desktop Client
Linkus Desktop Client ensures easy access to your office phone system, granting you the flexibility to work remotely or while on the go without compromising connectivity. It enhances your business communication with the following:
Intuitive user interface and rich call features
Contacts: Have a central place for both personal and corporate contacts, syncing across devices
Call Logs: View, filter, and delete call logs
Voicemail: Check, transcribe, download, and delete voicemails
Call Recording: Check, download, and delete call recordings
Function Keys: Create function keys as shortcuts for frequently-used features
Real-time Presence: See teammates' availability via extension presence
Audio Conference: Initiate an audio conference anytime, supporting up to 9 participants
Voice to Video: Elevate voice calls to video calls in one click
Supercharge Your UC Experience – Try Linkus Today!
Ready to take your daily call efficiency to the next level? Download Linkus Desktop Client for your Windows or MacOS today and experience all the incredible features firsthand. If you haven't had a Yeastar PBX at hand, make sure you apply for a free trial first before proceeding with the download.
Yeastar Linkus, being a comprehensive and feature-rich UC Client, is not limited to just the desktop client. It is also available as a web client and a mobile client. To delve deeper and find more information about Linkus, please explore HERE.