Robotiq, a leading innovator in robotics solutions, is proud to announce the launch of its ground-breaking PE20 Palletizer, designed to elevate collaborative robot palletizing operations across industries. This cutting-edge solution boasts the capability to effortlessly lift and stack boxes of 18kg (over 60% stronger than before) on pallets of up to 2150 mm high, marking a significant advancement in making cobot palletizing accessible to a wide range of sectors that were previously limited to manual labor or costly, bulky and complex conventional industrial robots.
The PE20 is the third palletizing solution released by Robotiq for the packaging automation industry. Following the success of its predecessors, the PE10 and AX10, Robotiq engineers and designers have intelligently squeezed the footprint of a cobot palletizer to the absolute minimum. The PE20 features a practical and highly compact design for easy integration and operation. This makes it one of the smallest and most adaptive footprints in the collaborative robot industry, saving companies from expensive production floor reorganization.
Equipped with the PowerPick20 vacuum gripper, the latest end effector innovation from Robotiq's engineering team, the PE20 palletizing solution provides unmatched performance and versatility. The gripper has a high payload to weight ratio, allowing to optimize the UR20 lift capacity to 18 kg (40 lb). PowerPick20 includes a dual-channel external controller. Enhanced control over the vacuum flow allows for optimizing multiple case pick performances as well as slipsheet management. The gripper kit includes multiple suction cups along with small and large brackets (as shown on the picture below) to accommodate different case sizes. And setting up the gripper is incredibly simple, requiring just an Allen key. This eliminates the complexity and programming required with custom grippers.
PowerPick20 is the only standard gripper on the market that is designed specifically for palletizing applications using Universal Robot's next-generation arm, the UR20. As Universal Robot's trusted tooling partner from the very beginning, Robotiq has played an integral role in advancing the field of collaborative robotics by giving tens of thousands of robot arms their ultimate purpose and function. As the unparalleled market leader, Robotiq has successfully deployed cobot End-of-Arm (EOA) tools across a wide range of applications on every continent, setting a benchmark for innovation and versatility in the industry.
With regards to programming, Robotiq again hits the mark with its unmatched, user-friendly, and intuitive software, that actually requires ZERO programming. The solution features a visual interface and built-in modules that make setup simple, guiding the user through a sequence of easy steps. This optimization is the direct result of creating a standardized solution for palletizing applications.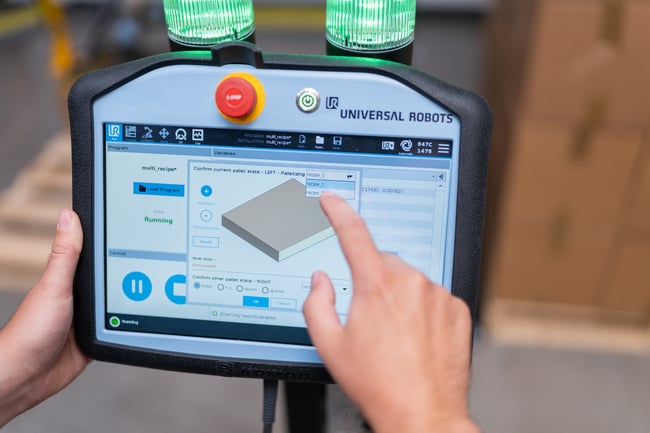 Through standardization, Robotiq's engineers have successfully eliminated countless complexities. Having the hardware parts pre-connected and already programmed within the software saves an immense amount of time and alleviates the risks of malfunction during installation. It also ensures seamless operation of all components when the solution is delivered to the customer. Time and effort to define geometry, pallet positioning, and signal inputs in order to accurately manage the cell status, aren't required. Unlike other software providers who do not offer hardware, choosing their solutions can lead to the need for custom programming and external expertise, resulting in extra costs and a lack of complete control over the palletizing solution.
The new PE20 Robotiq Palletizing Solution is so much more than the sum of the hardware and the software. Its simplicity may deceive how Robotiq's engineers have ingeniously tackled each complexity in favor of effective design, simple integration, and smooth operation in even the most challenging end-of-line palletizing circumstances. This remarkable achievement required countless hours of meticulously managed and optimized robot trajectories considering the full range of pallet patterns, infeed possibilities, palletized material types, and cycle times. 
 
The result is the most versatile, economically efficient cobot palletizing solution available, now for a wider range of industries and heavier precious cargo than ever before. 
Don't just take our word for it.
Explore your palletizing automation possibilities and unlock its full potential for your business. 
Or, schedule a call with an expert at Robotiq and discover the many benefits it could yield to your operational processes.