Pelagus 3D has successfully delivered an additively manufactured Return Oil Standpipe for the TYSLA RoRo vessel. The maritime and offshore industries are witnessing a paradigm shift in spare parts management due to the integration of additive manufacturing. The project, a collaboration between Pelagus 3D, Kawasaki Heavy Industries, and Wilhelmsen Ship Management, highlights the practical benefits of AM in reducing lead times and enhancing part performance.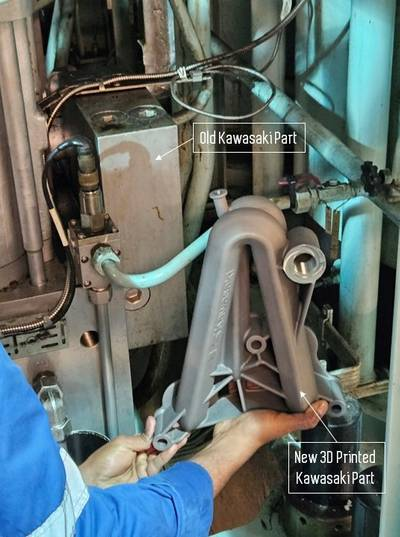 The standpipe, produced using Selective Laser Sintering (SLS) in stainless steel, exemplifies the efficiency gains from AM. The part's weight was reduced by 90%, which simplifies installation processes and facilitates uninterrupted maintenance activities. Traditional fabrication methods would take 135 days, whereas AM completed the task in just 15 days, significantly reducing potential vessel downtime.
Kawasaki Heavy Industries' role as an OEM was pivotal in optimizing the component's design, merging 10 parts into a single AM part and improving flow efficiency. This design innovation not only improves workability and safety but also aligns with sustainable development goals by minimizing material usage.
The future of the maritime and offshore industry's supply chain management is leaning towards digitization and on-demand production. With digital inventories and the capability for rapid production, the industry is set to witness improved response times and cost-effectiveness in sourcing spare parts, particularly those that are difficult to source or no longer in production.
Source: marinelink.com
Come and let us know your thoughts on our Facebook, X, and LinkedIn pages, and don't forget to sign up for our weekly additive manufacturing newsletter to get all the latest stories delivered right to your inbox.