News briefs for the week take a look at robotics at tradeshows FABTECH and PACK EXPO taking place near-simultaneously this September 11 through 14; then a robot team that monitors and maintains the world's largest radio telescope, a flying and on-wire robot for overhead power lines that predicts wildfires, a robotic surgeon as a cancer patient's only hope for his inoperable tumor, and how a young, promising surgical robot company suddenly went out of business.
Twin cities, twin robot venues
Near simultaneously, two cities will host tradeshows for a combined 75,000-plus attendees, and both will be packed with must-see robotics and automation.
FABTECH (Chicago, September 11-14); and PACK EXPO (Las Vegas, September 11-13). More and more, no event or tradeshow can escape the pull of robotics, and these two shows are the epitome of "Hey, I really need to attend both!"
The traveling, multi-city FABTECH is all about manufacturing products via metal forming, fabricating, welding, and finishing…

including 3D printing. Over 70% of the world's manufactured goods need the services of forming, fabricating, welding, finishing, or additive manufacturing, and FABTECH specializes in delivering what's new and what's best. Now, however, robot automation is beginning to dominate them all. So much so, that in 2019 FABTECH realized the inevitability of it and opened its first Robot Pavilion.
For example, as the global shortage of welders meets up with the near-perfection of robot welding-cell technology, FABTECH attendees will witness all manner of automated welding robots. Exhibit after exhibit will show the inroads and necessity robot automation.
PACK EXPO, another multi-city traveler, is all about cutting-edge packaging technology, processing equipment, and supply chain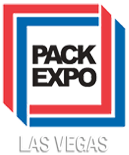 resources. The tradeshow offers seven different pavilions, covering essential healthcare packaging, food and beverage and confectionary packaging and processing, logistics, warehousing and material handling, containers and package printing, and even reusable packaging. And of course, more so than in most tradeshows, robotics dominates every pavilion.
For example, according to Inbound Logistics, more than 80% of warehouses in America are not automated, and over 56% of warehouse owners say they are scrambling to automate all or parts of their operations. All seven of the pavilions have solutions that address those needs, however, the Logistics Pavilion covers all the new-tech gear in warehousing, material handling equipment and systems, dock and warehouse equipment, and suppliers of inventory management and control systems.
Robots monitor world's largest radio telescope
China's 1600-foot-diameter radio telescope (an area equal to 30 standard football fields), with its feed antenna, suspended 500 feet above the dish on a 1.8-million-pound steel platform, is held in place by massive concrete towers and steel wires.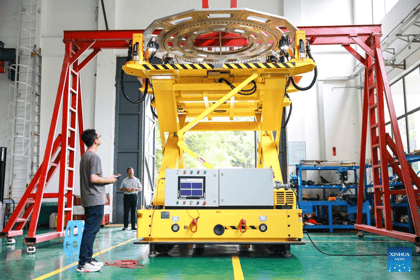 Five specially designed, maintenance robots will monitor the giant telescope for regular upgrades, general repairs, as well as for structural anomalies, like those that collapsed the 1000-foot-diameter radio telescope in Arecibo, Puerto Rico in 2020 (see video of collapse).
Costing $170 million to build, China's FAST telescope has 4,500 individual panels, 2,200 winches, and miles of steel cabling that need constant monitoring.
"The intelligent robots will be mainly used in testing of the supporting cables and pulleys of FAST's feed, the automatic maintenance of its actuators and laser targets on the reflector, the disassembling and installation of feed receivers, the monitoring of radio interference, and the all-weather measurement of its 30-ton feed cabin."
The five intelligent robots, designed by Chinese institutes will be able to clean and maintain the telescope's spherical dish – made up of laser targets underneath reflective aluminum plates. "They will also be able to travel along the cables supporting the feed cabin to scan for defects."
Robot to guard against wildfire risk
We know from massive forest fires in Maui and other fires in California that downed power lines and dried vegetation are ignition points for wildfires sparking in remote, inaccessible areas.
A beetle-like robot that can predict power outages and wildfires is in development at Ontario-based Waterloo University's startup incubator Velocity, at a newbie company that calls itself Enerza.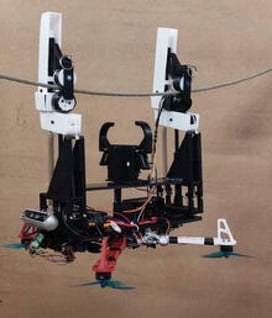 Anson Maitland co-founder of Enerza says that North America has 6 million miles of overhead power lines. "Once they come in contact with trees, the risk of forest fires increases. "With our robot, utilities can spot vegetation risks, corrosion or even birds' nests near the line and send out a team to handle it."
"The most common inspection method now is primarily done manually," added Maitland. "People go out in rural areas, they have to go out in ATV trucks, and they're basically inspecting the line visually."
"[The robot] would be able to use its propellers to fly itself up to the line and would be able to attach to the line. Using a thermal camera, depth cameras, and then use a combination of other stereoscopic cameras in order to measure distances."
With an increased efficiency of at least 200 percent over manual inspections, says the Enerza website, its new robot can detect failing infrastructure and potential future grid issues before they happen. "We enable utilities to not only cover the whole grid but also help them reduce costs."
Best of all, says the newbie company, all the firm's data is readily available in real-time.
Robot takes on inoperable tumor
For a cancer operation that would involve a patient's tonsils, tongue and throat, in addition to the prospect of having to split open the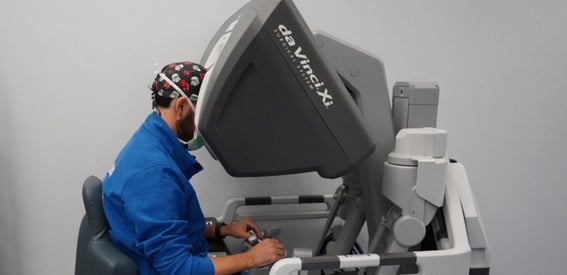 patient's jaw just to get at the affected operation site, a cancerous tumor was written off as inoperable and any surgical procedure deemed too risky for any surgeon to attempt.
It looked like retired Canadian journalist, Glenn Deir, was out of options other than radiation and chemotherapy, which wouldn't be enough. Without surgery, Deir's prognosis was dire.
Enter Sunnyvale, CA-based Intuitive Surgical's DaVinci robot for what the company's website calls "the point of possibility where ingenuity meets precision." The possibility of Deir's life being saved by a surgical robot became his only chance for survival.
He took the chance.
"The operation took 2½ hours. It was more complicated than anticipated," Deir wrote later. The previous radiation therapy had made the tonsil stiff; it didn't pull away easily. "The tumor on my tongue was the size of a large cherry. He [the surgeon] also had to rotate a muscle to close a gap in my throat. I woke up with a feeding tube up my nose and an incision that ran the full length of my neck. I was a cross between the Elephant Man and Frankenstein."
He asked his surgeon what the operation would have been like without the DaVinci robot. "In the good old days," replied the doctor, "we would have had to cut your jaw in two." Plus, previous radiation treatment had made even a simple tooth extraction impossible. The jaw wouldn't have healed properly. In short, said his doctor, "I had no surgical option."
Not every surgical robot is a winner
For every roaring success from the likes of Intuitive Surgical, there are other surgical robots that for either technical or business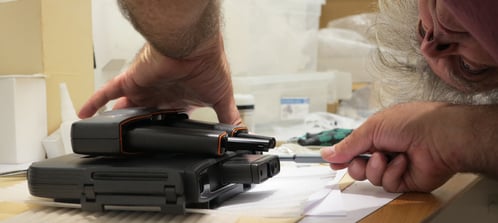 reasons don't make the grade.
One recent example is this week's announcement of XACT Robotics closing its doors and laying off all of its 65 staff.
The company's ACE Robotic System is a totally autonomous radiological surgical robot that, as XACT described it, is a "world's first, cutting-edge, hands-free robotic tool for guiding the precise robotic insertion of various surgical instruments."
Israel-based XACT had raised over $50 million in funding, had its ACE product approved for sale in the U.S. by the FDA in 2019, and began sales in 2020, but "has failed to generate significant revenue."
Hopefully, the technology, as well as the staff, will see better days ahead.