News briefs for the week take a look at the evolution of AMR design from Fraunhofer, cargo hold-cleaning robots for bulk-carrying ships, "Roboforming" precision shapes in sheet metal without cutting dies, ruggedized disaster robots, and net-cleaning aquatic robots on fish farms.
Evolving AMR design with 'evoBot'
Logistics these days has become a hotbed for new robotics models and technology, with one new product, the evoBot from the Fraunhofer Institute for Material Flow, presenting a revolutionary new look.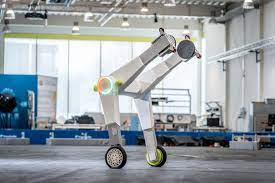 Officially known as a "self-balancing autonomous goods and packages transporter", the evoBOT's two arms, which swing up from their position between the self-balancing legs, can lift 220 lbs., travel at speeds up to 30 mph, and last for eight hours between recharging.
In contrast to conventional robots and AMRs, the evoBOT keeps itself perfectly balanced using the principle of an inverse compound pendulum without external counterweight, which makes the evoBot lightweight and space-saving (see video)
The autonomous transporter sees goods and objects through its pair of eyes positioned at its center bar, while embedded mapping sensors add to the robot's detection and navigation capabilities.
"EvoBOT can stretch its two arms to lock in objects to carry, flex its arms downward to the floor to act as a platform and bend into a V-shape to secure a package or box between its legs.
Ship's cargo holds cleaned by robot
The cargo hold of a bulk-carrying ship needs to be cleaned after it's emptied, which means considerable manpower, the danger of falls from heights, exposure to chemicals, and other assorted cleaning hazards for the personnel.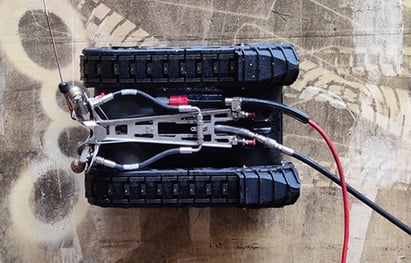 Denmark-based CLIIN Robotics has developed a cleaning robot specifically designed for cargo holds. The company's Cargo Hold Robot (CHR), equipped with high-pressure cleaning tools and magnetic tracks for climbing the walls of the cargo hold, easily replaces a conventional 4-step cleaning process involving tons of chemicals and sea-water flushing. The CHR's one-step freshwater cleaning process, claims CLIIN, cuts time spent on cargo-hold cleaning by 50%.
Using magnets, the robot crawlers from CLIIN can reach high, often inaccessible areas on steel surfaces of a ship's cargo hold, and, if needed, can also clean the exteriors of a ship's hull, plus interior/exteriors of oil storage tanks, and wind turbines (see video).
In addition to easing any adverse environmental impact from traditional cleaning procedures, the CHR provides more effective cleaning, as evidenced in March of 2023, with the receipt of two bronze awards—one in the category Safety Technology and one for Emerging Technology—at the Global Tank Storage Awards.
CHR makes it possible for a single crew member to supervise and control the entire cleaning process, without a chemical suit or cleaning apparatus.
"Roboforming" sheet metal without dies
Cutting or stamping out metal parts usually necessitates the use of a manufacturing die for the stamping or cutting process.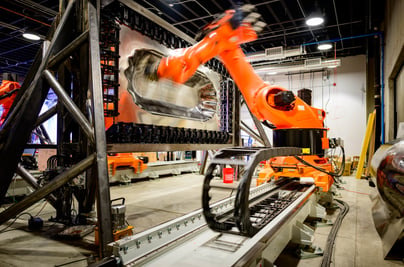 Eliminating the expense of designing and manufacturing such dies is the purpose behind Chatsworth, CA-based Machina Labs' new robot machining platform.
Machina Labs' claims its new robotic manufacturing platform is the first and only commercially available robot sheet-forming technology. By combining the latest advances in robotics and AI, the manufacturing platform "rapidly forms and finishes large, complex, curved sheet metal parts without any custom tooling."
Called Roboforming, Machina's robot/AI platform positions a FANUC robot on either side of a metal plate and utilizes its robot arms to precisely shape the metal without cutting.
"Machina Labs' robots use an extensive array of AI-driven sensors to gather data and incrementally manipulate sheet metal to form large, complex parts." The company gathers data for every part to create a digital twin with all the relevant process information. This provides the most accurate process and part qualification information for every single unit made.
Ruggedized robots as disaster assistants
Natural disasters seem to be occurring more frequently and with ever-greater destructive power. As frequency and danger levels rise, ruggedized means of first responder protection equipment would be of critical help, and some robotics developers are rising to the challenge.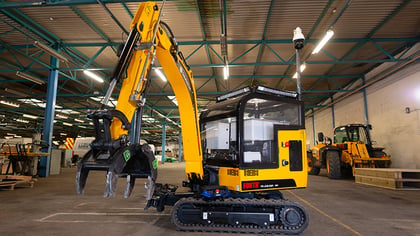 Cumbria, UK-based Forth Engineering says of itself that it uses "innovative technology to develop new methods which allow operators to achieve what was previously considered not possible." For Forth, such technology includes its new, specialized disaster vehicle, the Rescue Robot, a remotely operated robot capable of withstanding hazardous nuclear environments. It was successfully trialed in April (2023) at the Sellafield nuclear site in Cumbria, UK.
Built on a J C Bamford (JCB) tracked compactor/excavator platform, the Rescue Robot is tetherless and can be controlled from up to 150m away. Forth claims that "robust robotics systems, wireless technology, cameras, and lights can all withstand hazardous conditions.
"By working with Sellafield Ltd," says Forth's managing director Mark Telford, "we were able to prove the machine is able to withstand some particularly dangerous conditions, and its various adaptations and capabilities mean that this will be a real asset to the UK's nuclear industry."
Net-cleaning aquatic robot for fish farms
It doesn't take much to make a big bang in robotics. Invention, innovation, and a small investment can do wonders. Norway-based Remora Robotics, with a small $2.7 million is helping to remake fish-farm maintenance.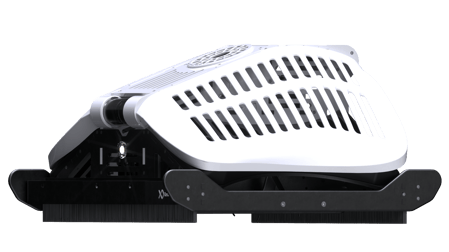 The global fish farming market, at $268 billion, and growing fast (forecast at $490 billion by 2030), most often uses nets to enclose fish stocks. The nets, over time, get enmeshed with tons of seaweed and need to be cleaned.
"The Remora robot," reads the website, "prevents biofouling, improves fish welfare while collecting data about the pen's aquatic environment in a gentle and sustainable, energy-efficient and environmentally friendly way."
Remora is the first fully autonomous net cleaner and inspector. With built-in sensors to monitor and inspect environmental data, the robot cleans and inspects fish farming pens while collecting data regarding the pen's aquatic environment.
Remora's technology was developed in collaboration with SINTEF, the Norwegian Research Council, NTNU and Innovation Norway, tested, approved, and documented effectively by Norce, Norwegian Research Centre.